Kylie Jenner is GLAMOUR's incredible AW18 cover star!
Kylie Jenner is GLAMOUR UK's Autumn/Winter 2018 cover star! *SCREAMS*
Kylie herself took to Instagram to reveal not just one, but the THREE covers that will be hitting newsstands on Thursday 13th September.
Within our stunning cover shoot, Kylie tackles three very different beauty looks: Autumn/Winter's top beauty trend, glitter, her signature, billion dollar making red lips and her pared back party look – just in time for the soiree season.
Kylie also slips into THE fashion looks of the season from new designer on the block, Christian Cowan. Kylie rocks Christian's incredible take on silver – tied up perfectly in an Insta-worthy bow – to DVF's furiously fierce take on yellow leopard print.
In our accompanying exclusive interview with GLAMOUR'S Entertainment and Celebrity Editor, Josh Newis-Smith, Kylie Jenner reveals her billion-dollar journey from her first tentative appearance in Keeping Up with The Kardashians to 21-year-old self-made billionaire and mother.
Talking about the various roles in her life, Kylie reveals the effects motherhood has had on her body, the lessons she wants to teach her seven-month-old daughter, Stormi Webster, and the incredible influence the Kardashians have had on her personal life and career.
Kylie's 'grounding' family, Kris Jenner, Kourtney Kardashian and Khloe Kardashian, join Kylie in GLAMOUR's exclusive interview to trace the rise of Kylie and her namesake company, Kylie Cosmetics, which has changed the beauty business blueprint forever.
We can also exclusively reveal that to celebrate the launch of GLAMOUR's Kylie Jenner cover, we will be giving away 500 Kylie Cosmetics lip kits and 100 covers signed by Kylie herself at a secret location on Thursday 20th September. Location details will be released on Glamour.com at 1pm on Monday 17th September so make sure you check back then to be in with the chance to win.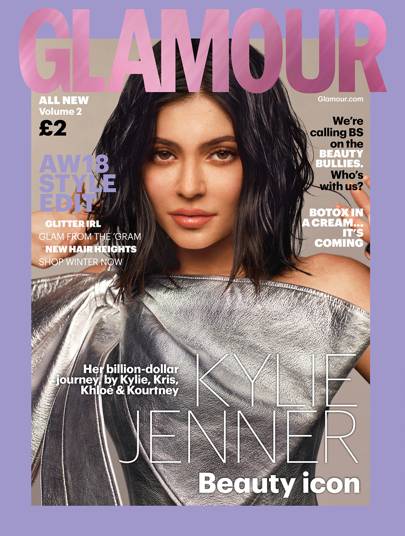 Elsewhere in GLAMOUR UK's Autumn/Winter 2018 issue, you will find all the beauty inspiration and thought-provoking features you need to read ahead of the new season, fashion advice to winter-fy your wardrobe and the likes of Emily Ratajkowski, Maya Jama and Anne-Marie.
GLAMOUR UK's Autumn/Winter 2018 issue is on sale Thursday 13th September.