Eight up-and-coming designers discuss the future of fashion
At the heart of London's fashion district lies The House of Peroni – a revolutionary design studio built specifically to empower eight of fashion's freshest design talents, through a bespoke mentorship programme which will culminate during London Fashion Week in February 2019. Get ready to watch the emerging names' visionary thoughts on the future of fashion in GLAMOUR's exclusive video.
[embedded content]
Empowering designers is the goal of The House of Peroni's programme, and by spending time in the fully equipped fashion studio and attending talks hosted by The Creative Council, each designer will enhance their skill sets, leaving them ready to create their own path in the industry. Whether they move on to building their own brand or working with others, after the conclusion of the programme they'll be fully empowered to create their own next step.
GLAMOUR asked the designers to share their thoughts, hopes and dreams for the future of the fashion industry on film. We asked them about trends in the industry and their own personal goals along with their ideas of what the future of fashion is going to look like. Sustainability, technological advances in printing and the ways in which The House of Peroni was already helping them take steps towards ticking off their career wishlists, were all talking points. Whether it's breaking the rules, the rise of unisex garments or getting more women of colour behind the scenes, with the help of The House of Peroni, you can bet these fashion forces are going to be fully empowered to make their predictions a reality.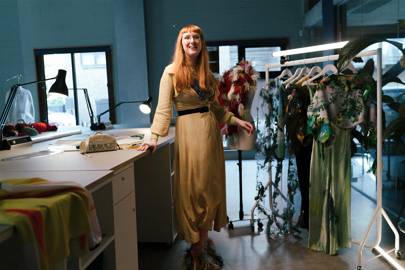 While the designers are empowering themselves in the studio, you can get up close to their work during London Fashion Week. The House of Peroni will throw open its doors to the public in February 2019 for a showcase of the designers' work. And while you're consuming inspiring design, you can enjoy Peroni Nastro Azzurro as well as specially made drinks. You'll be on course to shape the future of fashion too!
For the facts, visit drinkaware.co.uk. Please do not forward to those who are under the legal purchase age for alcohol